Stars of the bread-baking world gathered together at Landmark on the Park, Manhattan, New York City on Wednesday October 30 2019 for the much-anticipated announcement of the winners of the  Tiptree World Bread Awards, supported by American Bakers Association.
The awards ceremony was hosted by Stephen Hallam, Master Baker, Managing Director of Dickinson & Morris in England and Chair of the Judges who was delighted to declare Pain Au Levain of Seylou, Winner of the Wholewheat/ Wholemeal category. Jonathan (center) was presented the trophy by Samantha Moore, American Bakers Association (left).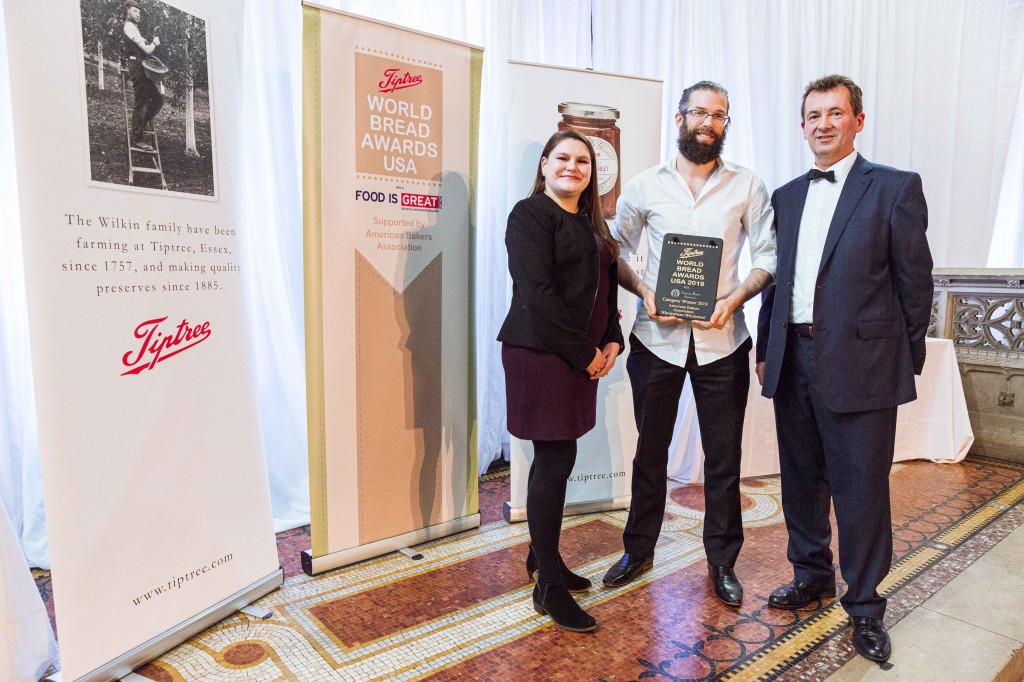 Jonathan was then announced Tiptree World Bread Awards USA Overall Winner 2019, and presented the trophy by Philippine Coste, Tiptree (right).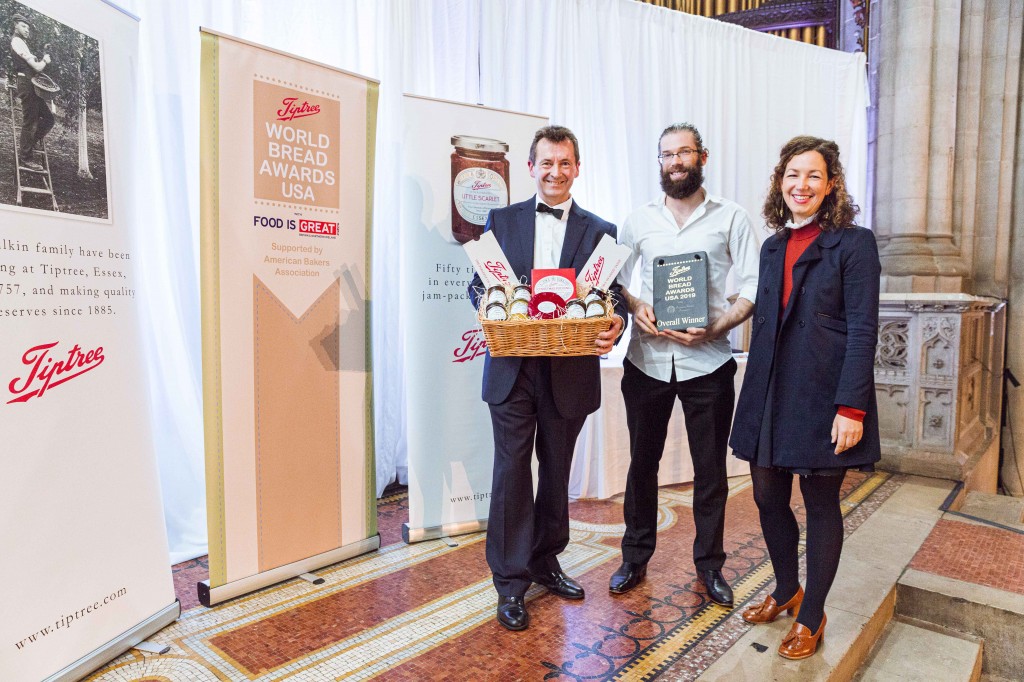 Seylou means "eagle" in the Mandinka language of West Africa. It also carries a connotation of ascending. While the eagle has long stood for spiritual quest and vision in many mythological and cultural traditions throughout history, for Jonathan and Jessica – owners of Seylou Bakery – this sacred bird also symbolizes the birthplace of Jonathan's vision.
Today we are delighted to welcome Jonathan to our new blog page to share his story in the baking world.
Jonathan, tell us about your winning loaf.
My favorite product to make is the the pain au levain which is perhaps the simplest, yet most difficult bread to master. Due to its simplicity, it makes transparent every step of its creation, and in my opinion is the most revealing of the baker's skill level. Its flavor profile speaks clearly of how the grains were grown, as well as the terroir of where they were grown. It is a humble loaf and humbling in its intricacy. We make this loaf daily, and each day we are both challenged and amazed by it.
We would love to hear more about your story in baking…
I started my baking career in Boulder, CO during the recession of 2008. I had recently graduated college with a degree in ethnomusicology and had spent every penny I had on a far-flung adventure around the world accompanied by my lovely wife to be, Jessica. Upon our return, I was unable to find even the most mundane job despite considerable effort. To alleviate the encroaching feeling of purposelessness, I began to bake at home. Almost immediately I was filled with an insatiable passion for it. With renewed energy, I landed an apprenticeship with a well-known local baker. The rest is history. During my career I have had to re-invent myself as a baker many times. Throughout the years I have had to re-evaluate why I am a baker still, and have had to recommit myself, often changing directions as well as key aspects of my approach, such as the decision to only work with whole grains.
Tell us a little about the bakery, and what makes it so different.
When my wife Jessica and I decided to open a bakery of our own, I knew that the most important step was going to be finding farmers to work with. Fortunately, the Chesapeake Region has an incredible array of organic farmers, many of them from the Amish community. Our goal was to deeply cultivate 3 or 4 partners by sourcing as much as possible from each farm. For example, about half of our pastries are made from what may be called 'cover crops' or underutilized crops such as buckwheat, millet and sorghum, grown in rotation with the wheat we were already purchasing. We also work with an Amish farmer in Lancaster Country whose farm is animal integrated. The same cows and chickens that fertilize the wheat fields give us our dairy and eggs. Once these relationships were established, we sought out a location which would expose and popularize our philosophy of being 100% locally sourced, milling our own flour, and only baking with whole grains. In other words, there is not a trace of white flour or refined sugar on the premise of our bakery. When building out the space, we made as much of the process as visible as possible. The grain sacks from local farms are stored in full view near the entrance. The stone mill, with which we grind every bit of flour we use, is visible from the display case, as are the bakers, baking in our 20 ton masonry oven.
My plans are to build a much larger facility that would include a regional mill, in order to increase our purchase power to buy grains from local farmers, as well as a means to make them more accessible to bakers, chefs and institutions within the region. I would also like to make some of our product lines more efficiently in order for them to be more affordable and accessible to a broader social strata, while still using the same principals as our flagship such as "local", "sustainable", "wholegrain", "fresh-milled", "naturally-fermented", "handcrafted" etc. This kind of venture would need to be accompanied by a robust set of educational programs geared around how to use these local wheats as well as other alternative grains. I hope that one day SEYLOU will become a school for a new kind of baker; one for a healthy, delicious and sustainable future.
How did it feel to become a category winner, alongside the loaf winning the overall title?
It was a powerful and overwhelming sense of appreciation for every aspect of my baking career which had brought me to that point of recognition. I was so happy to see that a 100% wholegrain loaf could compete and win in an open competition for the overall title. This was something revolutionary for the artisan baking community.
Would you recommend other bakers to enter the Awards?
Definitely. More competitors will raise the bar as well as increase the potential for shared knowledge and cooperation among artisan bakers. It will give us an excuse to come out of our caves in order to socialize and show each other what we have been working on. Meeting in person with real bread in hand is a welcome and healthy alternative to the virtual "Instagram" reality plane that many of us interact on.
To find out more from Seylou, visit:
www.instagram.com/seyloubakery/