Bary Yogev from Liv Breads, Millburn, New Jersey took home the trophy for the Challah category of Tiptree World Bread Awards with Food is GREAT in 2018. He is seen below receiving his trophy from Kristen Lau, Director of Marketing, The International Culinary Center (left) and Stephen Hallam, Master Baker, Managing Director of Dickinson & Morris in England and Chair of the Judges (right).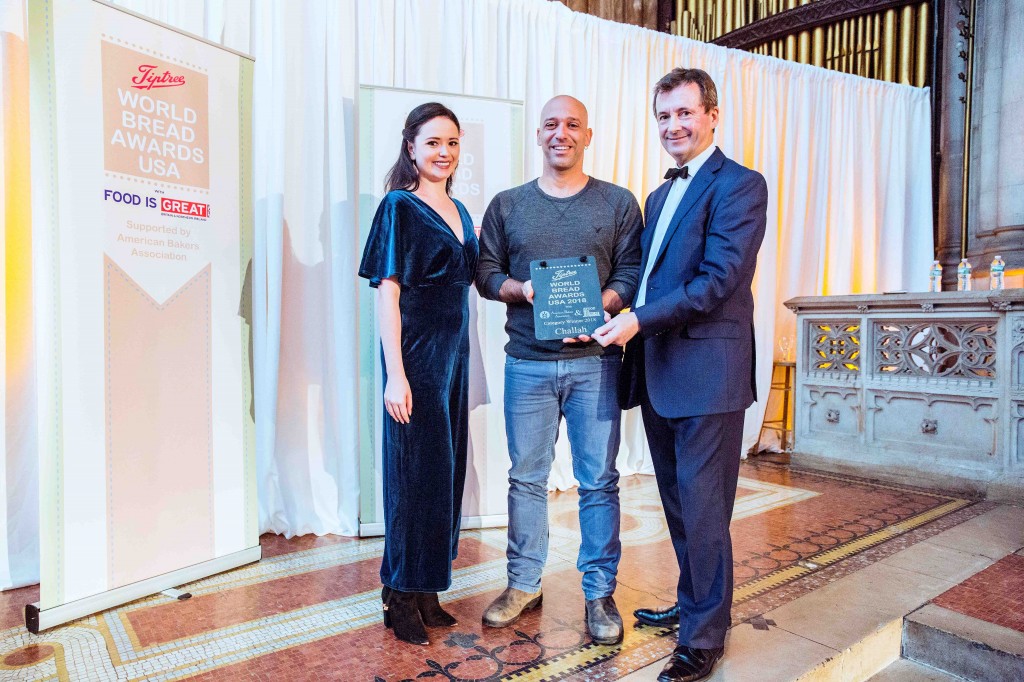 Today we welcome Bary to the blog to talk about his win and life in baking.
Welcome to the blog! How did it feel to win your category?
We were so amazed and honoured to receive this award. We entered on a whim after being open for only three months, packed up 3 different loaves of our breads (challah and two sourdough), and drove them into the city. To win for challah, and runner up for our whole wheat sourdough was a huge acknowledgement for us, and a big boost to our amazing bakers who have been working tirelessly since we opened in August.
Next year we look forward to entering in more categories!
What were the highlights from the awards evening for you?
Coming from Israel, this was an amazing opportunity to meet top-level professionals in the field in the United States. I've worked on many successful endeavours in Israel, and the baking community there is tight knit. The style of baking in Israel has its differences and similarities with what you find in the States, but we all have a common baking language. I learn from my colleagues every day and am looking forward to learning more and meeting more colleagues in the States. I'm excited for people here to learn about Liv Breads and what we do.
Tell us more about your winning loaf.
Liv Breads challah recipe is based on my family recipe. I took this as a starting point and adapted it to professional equipment in the bakery. Before we opened, we went through many iterations of testing, adjusting the recipe's ingredients, bake time, flour type, liquid amount, and fermentation until it was perfect.
In general, we bake our breads dark, and our challah is no exception. The high temperature caramelizes the starch in the bread, giving it the best flavour. While our challah has become very popular in the few short months we've been open, we've also discovered that there's a customer base who are not used to this method, and expect a light-coloured challah. It's a constant educational process to explain to our customers why we do it the way we do, but we are certain we will win people over as they try our challah and experience the flavor for themselves! We were thrilled to receive the recognition from Tiptree world Bread Awards that this method produces an outstanding challah.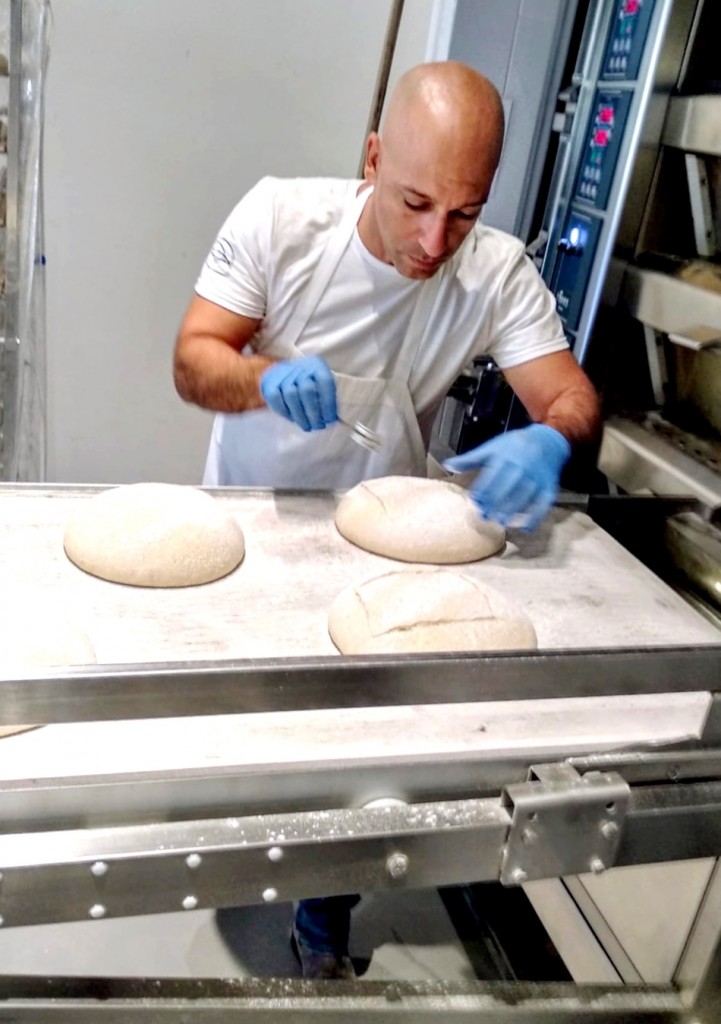 Describe a normal working day at your bakery and what makes your bakery unique?
Our bread bakers start the day at 4:30 am by pulling the shaped loaves from the previous day and baking them off. The bread bakers also bake and fill our pastry, which includes a variety of croissant, Danish and cookies. When they're done baking the day's items, they move on to mixing and shaping the breads for the following day. Our pastry team works on mixing and shaping the laminated dough products (croissant, babka, rugelach, Danish) and cakes and cookies in our temperature-controlled pastry room throughout the day.
Pre-opening, we spent a significant amount time investigating bread flours and local ingredients, some of which were new to me coming from Israel. It was important to us as part of our mission, that we don't cut corners with ingredients OR our process. With the exception of our challah and an Italian-style bread, we use 100 % sourdough (no commercial yeasts) for our breads, and this process takes time. Our breads rise for at least 24 hours and are only sold the day they are baked.
We have a large variety of products, some very unique to the area. Opening up in a suburb in New Jersey, many of our clientele are thrilled to find a quality bakery in their own back yard. French-style Laminated doughs such as croissant sit side by side with Israeli-style laminated doughs such as rugelach and babkas. We also have a café attached to our bakery, and offer sandwiches, salads and soups every day. Each one of these items highlights our bread in some way. The ownership team focused on each area of our operation and take pride in the level of training we offer to our employees both front and back of house, and think the results show!
We'd love to hear more about your baking background.
I've been working as a baker in Israel for 15 plus years and am an instructor at Danon Culinary institute in Tel Aviv. I constantly learn from my mentors and the new bakers I meet and train. While I trained the team at Liv Breads to work in my style, I constantly learn from them as well and am always improving my craft.
What tips would you give to young apprentice bakers hoping to bake and even own their own bakery one day?
To be successful with bread baking, you must use all of your senses when you bake. Bread dough can sometimes be an unknown variable, and your recipe is not a guarantee for success. You have to pay constant attention to all aspects of working and with and baking the dough and be open to learning something new every day. Some days you may not be successful, but it's a constant learning process, and every day you improve.
When opening a bakery, it's about the teamwork - giving each person the responsibility to take control of a part of the process. Because bread baking is a long process, all team members need to be invested in the overall process, but also focused on their part of the process. They need to know their own strengths and weaknesses as well as their co-workers', so that they can complement each other.
To visit or find out more about the bakery:
Address: 184 Essex Street, Millburn, NJ 07041
Website: www.livbreads.com
Instagram: @livbreads
Facebook: @livbreads